Brandon Moye at Fidelity Bank Mortgage
Phone: 919-649-4888 Fax: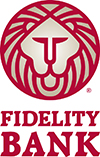 Copyright 2018 Fidelity Bank - The Fidelity Bank name, Content, Logo, Lion Symbol, and Logotype are signatures of Fidelity Southern Corporation and its subsidiaries. They are legally trademarked and should be used only for the purposes intended by Fidelity Bank.
If you are using a screen reader and are having problems using this website, please call 888.248.5466 for assistance.
Get Started
Ask Fidelity Bank Mortgage a Question